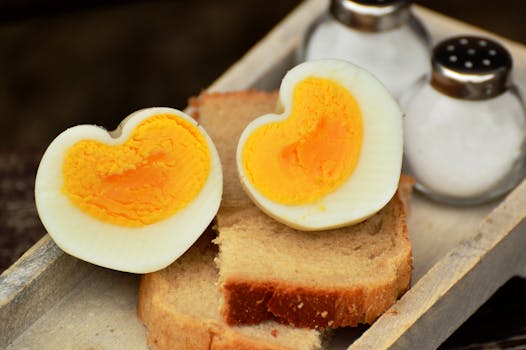 A Simple Egg Salad Recipe For Your Children
By:Christine Szalay-Kudra
Egg salad is nutritious and tasty. If your kids are not excited by an egg salad sandwich, take the time to teach them how to make it themselves. Adding a recipe to their own cooking skills is enough to make most kids change their mind about a food.
Teach them to hard cook an egg rather than hard boil one. The eggs should be added to cold water that covers them, and then the water is brought to a boil. The heat is turned off and the pan is covered, allowing the eggs to sit in the hot water for a minimum of 10 minutes. This produces a hard cooked egg that is still tender rather than rubbery, and it eliminates the green ring that forms around the yolk in hard boiled eggs. Drain the eggs and peel them when they are cool enough to handle.
Eggs can be mashed or cut into small pieces. Let your kids experiment with adding flavors to the salad. Parsley, smoked paprika, chili powder or curry can be added to give the egg salad a little zing. Likewise, cream cheese or yogurt can be mixed with the mayonnaise to add more creaminess or give the sandwiches a tangy flavor.
Lettuce, sprouts, and pickles add a little crunch. Tomatoes are also a colorful addition that makes egg salad more exciting. Some people may prefer red onion slices or bell pepper slices. Bacon strips or crumbled bacon can be added to the mixture to add a smoky flavor.
Let your kids choose their bread. Some may find the chewy whole grain breads go nicely with their creamy egg salad. Others may prefer bagels, English muffins or other baked goods. The texture of the bread can add a lot to the finished egg salad sandwich, and can make the difference when it comes to getting the kids to eat it. No one likes mushy bread, and that is exactly what happens to white bread topped with moist egg salad. A firmer bread should definitely be considered to increase palatability.
Egg salad may be a popular choice to make after Easter, when lots of extra boiled eggs are lying around the kitchen. Do not let the time of year stop you, however. It is simple to make a batch of eggs to make for egg salad.
Recipe for Delicious Egg Salad
What You Need
6 hard cooked eggs
1/3 cup mayonnaise
1/4 teaspoon fresh ground pepper
1/8 teaspoon sweet curry powder
1 teaspoon Dijon mustard
Pinch of kosher salt
How to Make It
Peel the boiled eggs and separate the yolks from the whites. Put yolks in a mixing bowl and mash them thoroughly with a fork. Finely chop the egg whites with a knife and add them to the yolks.
In a separate bowl, mix the mayonnaise, pepper, salt, Dijon mustard and curry powder together. Add the dressing to the chopped eggs and stir well to combine thoroughly.
Serve immediately on a lettuce leaf or on your choice of sandwich bread. Leftovers should be placed in an airtight container and refrigerated. It can last up to a week.
Christine Szalay-Kudra is an author, food expert and mom of four boys. She is the owner of the Recipe Publishing Network a group of sites dedicated to fine food and information for cooks. When not busy with her business you can find her sharing on one of these social networks at her own URL: http://www.recipepublishingnetwork.net/