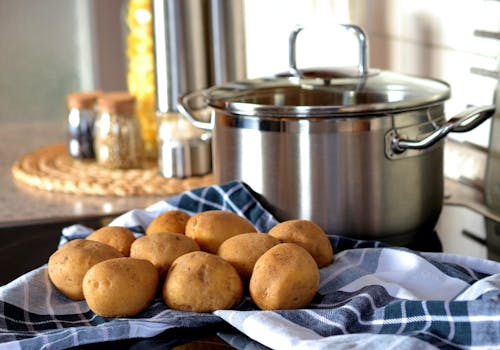 AU GRATIN POTATOES
3 cups sliced cooked potatoes/ canned potatoes work also
1/2 cup grated cheese of your choice (usually cheddar) However, use what you have.
1/2 cup of bread crumbs or crushed unsalted crackers
1-1/2 cup of white sauce *
Grease or spray a baking dish with the oil of your choice. Place 1/2 of the potatoes in the bottom of the baking dish. Add 1/2 of the grated cheese. On top of the cheese, sprinkle the bread crumbs or crackers. Place the remainder of the potatoes in the baking dish, the rest of the cheese and pour the white sauce over the cheese. Top with the rest of the bread crumbs or crackers. Bake in a covered dish at 350 degrees for 30-40 minutes.
*White Sauce Recipe
2 Tablespoon all-purpose flour
Heat the milk in a pan, on low to medium heat. In another pot, brown the butter on low heat, being careful not to burn the butter. Slowly add flour and salt to the mixture stirring until it is nice and smooth. Then add the hot milk slowly to the flour mixture stirring to avoid lumps. Cook 5 minutes, stirring constantly, to prevent the sauce from scorching. Remove from heat and add to potatoes .