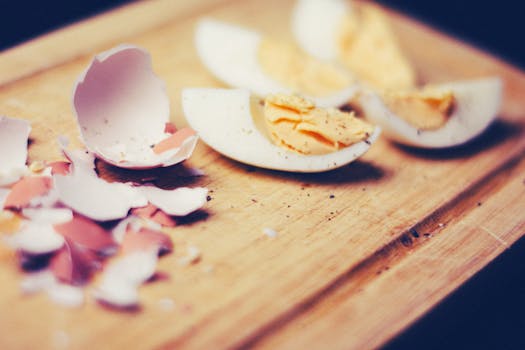 Deviled Eggs Recipe - Easy Deviled Egg Appetizer
By:Paula Whitmore

Deviled eggs are great to make for a simple holiday gathering or for a pot luck dinner. They tend to be a delicious, soothing, and party favorite appetizer. There is nothing better than making a big batch and snacking on a few before you put them out at the dinner party or packing them up for a party. Below is a quick and simple deviled eggs recipes that can easily be made a couple days ahead. So if you are ready for a foolproof, crowd pleasing recipe, then get your tools ready and let's begin.

Hard-Cooking Eggs

The first step in making these easy deviled eggs is to hard-cook them. A lot of people say hard-boil, but this is not the correct term because you are really not boiling them, as you'll see. They should be cooked over high heat just until the water begins to boil then removed and left to stand until done. Never leave your eggs to boil! If eggs are boiled for any length of time, the yolks will become hard or may turn an unattractive greenish-gray.

Simply put the eggs in a pan roomy enough to hold them without crowding, with cold water to cover by at least one inch. Next, over high heat, heat the water and eggs until just fully boiling. Once a full boil is achieved, remove the saucepan from the heat, cover tightly and let them stand for 15 minutes. After which, remove the hot water and run them under cold water for 5 minutes to stop the cooking process. At this point, put them in the refrigerator to cool for a couple hours. It will make it easier to peel them.

Easy Deviled Eggs Recipe


12 hard boiled eggs
1/2 cup of mayonnaise
1 teaspoon prepared mustard
1/4 teaspoon salt
1/8 teaspoon cayenne
1 tablespoon curry powder


Now it's time to make the deviled eggs. After peeling them and cutting them lengthwise in half, remove the yolks and put them in a bowl. This step is optional, but you can run the yolks through a hand sifter to get them real fine. It's makes for a creamier deviled egg. Otherwise, just mash them with a fork. Next, combine all the other ingredients to the yolks and mix well.

The last step is to take the mixture and put it in a food storage bag. What you will do next is to snip a hole in corner of bag and pipe yolk mixture into egg white halves. This is the easiest and most clean way of preparing the deviled eggs for presentation.

There are a number of variations to try, but I find this deviled eggs recipe to be the best tasting. It's simple to make, taking only a matter of minutes to put together, minus the cooking time for the eggs and letting them cool down before peeling.

So if you want to be the hit of the party or family get together, than give this yummy and easy deviled egg recipe a try.

Helpful Tip: Always use older eggs when preparing this or any deviled eggs recipe because they shell a lot easier. Receive other useful information and tips from the following:

Deviled eggs recipe [http://www.deviledeggsrecipe.org/easy_deviled_eggs] - recipe page.
Hard Boiled Eggs [http://www.deviledeggsrecipe.org/how_to_make_hard_boiled_eggs] Useful information about how to hard-cook eggs.About the Author:

Paula researches various topics of fashion and cooking, and is a writer online.